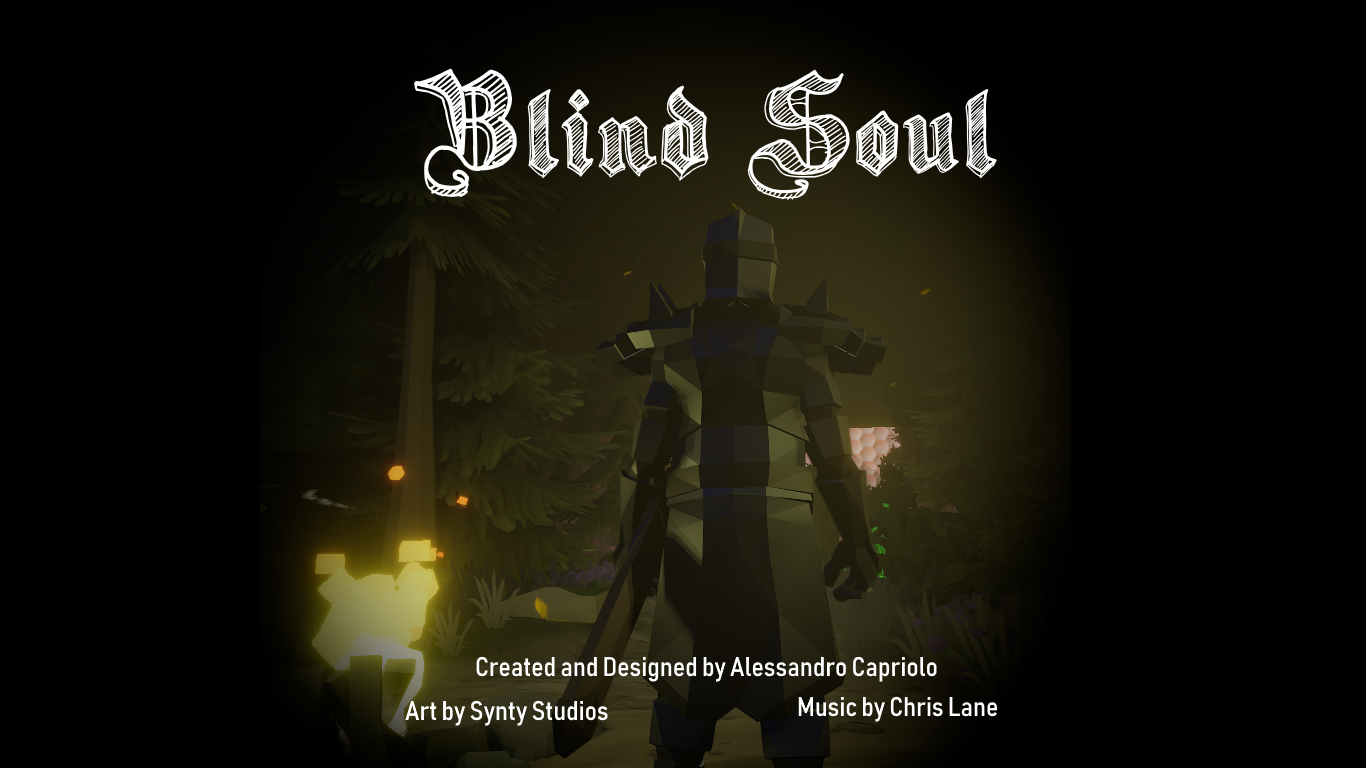 Blind Soul
A downloadable game for Windows
Blind Soul, the latest action adventure demo from Alessandro "Ordnas" Capriolo. Search answers in the horrific world of Phalanxes, cursed by a complete darkness. Danger is around every corner, and you must discover the secrets of this dark world in order to survive.
PC version available to download, with scalability graphics settings.
FOLLOW BLIND SOUL
Follow me on Twitter https://twitter.com/CaprioloOrdnas
Facebook https://www.facebook.com/Ordnas006
Instagram https://www.instagram.com/alessandrocapriolo/
Controls:
WASD - Move
Left Shift - Run
Mouse Left Button - Attack
TAB - Lock
E - Open Chest
I - Inventory
Comments
Log in with itch.io to leave a comment.
Played your game in a video, I'm really looking forward to what you do with this!
your game starts at 12:45
hi, thx for the demo. greetings from germany
Cool game. I like the art style and lighting. There are a few issues with it, like ambiance ,but it's a good start.
Congrats for finish the game the first time without the sword ahah! :D From the video I realized that I forgot to removed the crouch button from the UI :P Also I do not know why your blocking wall is more opaque than trasparent, maybe on some quality settings the trasparent texture is not working well. Thank you for playing!

Played this for a 3 free indie horrors (As this is listed in the horror game for some reason) With the impression it was gonna be a horror-souls game. I was kinda right/kinda wrong? It definitely looks the part, but doesn't quite feel it (Yet) definitely needs snappier controls and more polish and gameplay but, i can see SO MUCH potential here. Audio only plays through left or right track most of the time, which is weird. I give a much more in-depth review in my video near the end, below
Yeah, maybe adding the tag horror for this game was not a good decision, the intention was to say that it has a dark theme. Camera problems and controls are something that needs to be fixed to be sure, I put too much time on the graphics and less on the gameplay (ouch!). Thanks for playing this prototype! :D
Yeah, no problem! I really enjoyed what i played! I just think it needs work is all. It's definitely getting there and i can't wait to see the finished product. Keep me posted!
I think I blinded one of the enemies, or at least shaken his head to knock pathfinding out of him. :)

This is a really great start! Not without some pretty major issues, but a solid foundation nonetheless. The visuals are fantastic, but the animations are a little clunky, the combat is satisfying, but lacks a good flow to them and the mechanics are solid, but the camera still needs a lot of work. As with Humanity Is Dead, the game shows quite a bit of promise, but I'm looking forward to seeing a more highly polished version. Great work so far!
Hi CoalFire, thank you also this time to play the demo! I watched you and enjoyed your video. Agree with your solution for the camera, I needed to add a transparency to objects if collision with camera happens, but didn't have time to write the shader :(
I wanted to replace the combat animation also. The volumetric lights made a lot for the atmosphere, thanks to the Unity paper about the Adam demo using Volumentric light. As for Humanity is Dead, I hope to find a publisher interested in the game :)
Hello there!
Dope graphics! Loved the close combat, and the controls were pretty easy to handle! nice work guys!
Have you considered participating in our https://thegdwc.com ? The competition is totally free and with winning prizes! Our mission is to support and reward the Indie game developer community.